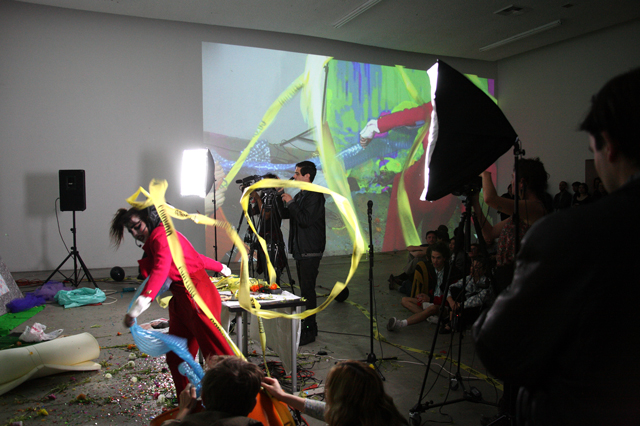 Experimental Half-Hour is a television show that started in August of 2010 in Portland, Oregon as a platform to engage and broadcast local and international musicians, performance artists, dancers, and comedians. The half-hour episodes provide a record of the contemporary performing arts and video culture. Conceptual collaboration is stimulated by access to a broad range of new and old technologies ranging from live video broadcasting to glitch-based homemade video effects "stomp" boxes. Experimental Half-Hour challenges the idea of television and creates a platform for artist to channel their ideas that are sometimes hard to do on its own. This kind of collaborative environment creates unexpected pleasant surprises that brings artists together in a community.

Since the winter of 2013 the show has officially been relocated to the land of television, Los Angeles. Since moving the show has become more self-reliant due to the lack of public resources available and recently built a mobile studio. Experimental Half-Hour hosts and presents live events in various venues, galleries, and art spaces across the Los Angeles area that are documented to HD video and broadcast live on the internet.
The duality of analog and high definition technologies creates a representation of the changes to the world of television. We combine these technologies as an homage to the cable access television culture while welcoming the new form of broadcasting on the internet.
Directors-Producers:
Eva Aguila
Brock Fansler